Dear Sam and Nancy,

Jackie and I wanted to take a moment to thank you for the great job you did in selling our home in the last two weeks. It is still hard to believe that only a week passed from the time the listing was posted in the MLS system until the time we accepted an offer. Your knowledge of the Thornhill Real Estate market is very impressive and your advice was sound in all regards.

We were very pleased that the service provided was delivered exactly as you explained it at our first meeting: from the consultation with the stager, the session with the photographer, the preparation of the sales material and the open houses. The support staff at Royal LePage were a terrific group and were diligent in arranging viewings with us.

We were also particularly impressed with the level of integrity that was shown in the handling of the multiple bids; all prospective buyers and their agents were treated equally while our interests were always your primary consideration.

As you know we had originally interviewed another well known agent, but without a single doubt are glad that we decided to work with you. Please feel free to share this unqualified endorsement of your services with any prospective clients.
John McCallum and Jackie Oliver, Thornhill
Home Seller
What do I know about selling a house? Absolutely nothing! I needed a real estate agent who could guide me, step by step, knowing that I was a complete innocent in this complex business. Sam was everything that I needed, and more. No question was too stupid to No point about selling a house was not explained to me in the baby talk that I needed, and no effort was too great to ask of Sam.

How many agents remain available to you for what seemed to me like 24 hours a day!? While nurturing me under his professional wings, Sam was a shark in the waters of listing and showing properties. His strategy, cunning, and stealth on my behalf ended in fantastic results.

Sam turned out to be my father-figure, my confidant, my advisor, my teacher, my guide, my safety check, my protector, my champion and even my friend. In such ventures as selling property, one needs an agent who is completely on top of his game,- knows every trick in the book, - sees every opportunity out there and grabs it immediately.

Sam is the consummate professional,- the definition of the ideal real estate agent. From start to finish, Sam was at my elbow, explaining the process before I even asked.

He understood my needs, my fears, my wants, my wishes, and fulfilled them all in record quick time. In some ways, Sam is like an over-protective parent, anticipating the pitfalls that his child may encounter,- smoothing and clearing the path before it is trod.

Although a child might resent such omnipresent parental concern and direction, his clients can only marvel at how simple the process is made for them. By placing my faith in Sam's skills, I got a price for my house beyond my wildest hopes!

What more could a client ask?

I recommend Sam Cuda so highly, that I really can't think of anyone who does their job better,- except, of course, me.

Any time that my relatives or friends want to sell a property, and ask me if I know a good real estate agent,- the answer will be instantaneous!

" Sam Cuda!!! "

Brian W. Kelly.
Brian Kelly, Retired Teacher, Toronto
Sam & Nancy Cuda were terrific from start to finish. They looked after us as if our home was their own. With first rate service and professionalism, they ensured we found the perfect home and sold our existing house quickly thereafter. They are a dynamite combination and always there when you need them. We wouldn't hesitate to work with them again.

Greg Mason, Vice President, Marketing
Sam is meticulous in his planning and execution of any transaction over which he presides. My wife and I have had Sam sell our house and locate another for purchase. After extensive research and planning by Sam, both the sale and the purchase went off without issue. Recommendations have been made to colleagues and family members regarding Samís approach and services. I am very proud to say that my reputation is still in tact with all of the people that I have recommended to Sam. Each and every person has commented on Samís stellar ability. Whether it was buying or selling property, his meticulous, diligent, and personal approach has resulted in extreme satisfaction in all cases.
Paul Jones, FAN 590 Raptors Broadcaster, Raptors NBA TV co-host, Sportsnet.ca
As first time home owners it was important for us to be able to develop trust with our agent. We developed more than trust in Sam. He proved himself to be effective, efficient, reliable and very patient. We never felt any pressure to purchase or rushed throughout our outings. Sam was consistently prompt in making us aware of new listings. In fact, we are confident we would not be in this home if it was not for Sam`s commitment and diligence. As well, we are positive his skills, confidence and professional approach played a key part in the purchase of our home. It has been without hesitation we recommended Sam Cuda and will most certainly continue to do so. By far he exceeded what we expected in a agent.
Medical Doctor, Lorne Park
When we asked Sam to be our real estate agent we knew we would get some professional advice but we never expected the degree of dedication, involvement and guidance that we actually received. Sam helped us understand the market by providing us with comparative information on different areas and houses we were interested in. He also gave us helpful suggestions on what to look for in a house that would meet our specific needs. After negotiating the buying of our dream home, Sam was able to sell our house in less than a week for 99% of the asking price. There is no doubt that Sam is a consummate professional who knows the market, knows how to make a house show well to create an interest and knows how to negotiate the best deal. Sam went, in our minds, above and beyond the call of duty. His involvement did not stop with the closing of the deal; instead, Sam called and stopped by to make sure everything was alright. This is why we do not hesitate to recommend him highly to anyone.
Angela Venosa & Jean-Pierre Francoeur, Richmond Hill
As you would imagine, the summer has been very busy period for us in selling and buying our homes-tasks you so painstakingly helped us to accomplish. This letter cannot fully express our deep appreciation for all you and your company had done for us during the challenging need we experienced to sell and to purchase a home quickly. We greatly appreciate the skill and the personality you displayed in serving us... and in doing so successfully. It is with genuine sincerity that we thank you for your patience, kindness, understanding, and efficiency. There were many moments that we felt totally frustrated; however, your insightful sense of humour, enthusiasm, and optimism enabled us to keep hope. Your skill and personality ``saved the day!`` Also, we would like to convey our great appreciation to your company for always responding courteously to our request for you to contact us--you always replied so promptly on the very few occasions that we could not reach you directly. Thanks, also, for the many useful pieces of advice you gave us in legal and financial matters. You certainly showed great imagination and thoughtfulness in bringing such matters to our attention. Our colleagues and friends who are contemplating selling and buying homes will definitiely hear about you from us. We wish to thank you once more, and to extend to you and to Royal Le Page Your Community Realty our best wishes for future success.
Homeowner, Markham
After a day of just viewing homes, Sam was able to quickly identify what home would meet our family's needs. I appreciated the time he took to view houses on his own and it was a matter of days before he called to say he had found my dream home! He was right. I appreciated his no pressure sales tactics and felt he was truly working in my best interest. It was a complete pleasure working with Sam and I do not hesistate to recommend him to others. I look forward to working with him again should our needs change!

Homeowner, Maple
Dear Mr. Cuda, We would like to thank you for your professionalism, dedication and compassion in finding us the perfect temporary home and location. When we had asked you to find us a new home in a new town, we could not believe the extensive research and the attention to detail you had provided us. You are a wealth of knowledge! We know that all your hard work came from the heart. Thank you tremendously. We cannot wait to work with you again, when it will be time to find our permanent family home..
Homeowner, King City
Sam was superb to deal with throughout the whole process of selling my home. I greatly appreciated his professionalism and integrity from the initial listing to the negotiation of the final offer. I would highly recommend Sam to my family and friends as a trustworthy and dedicated individual.
Blake Hornsby, Consultant, Toronto
After a year of living in our first home, we continue to be thrilled with our choice. We love the neighborhood. It truely is a community where we are happy to be starting our family. Your patience in helping us find the home of our dreams within our budget is very much appreciated. We couldn`t have done without you!
Fred Barwell & Tanya Boyd (and Baby Josh), Thornhill
You have walked part of my journey with me. My family appreciates it. I have felt the comfort you provided us as we walked. THANK YOU!
Homeowner, Thornhill
It was a pleasure working with Sam Cuda on the sale of the family home. He took the time to explain and assisted us on all procedures of this daunting task. Mr. Cuda handled the entire matter with complete professionalism and efficiency. Our family has already recommended his services to other friends and associates.
Micheal Castaldo, Toronto, ON/ New York, NY
Loretta and I are very happy in our new home. I wanted to take this opportunity to thank you for all of your advice on the purchase and pre-inspection of the home. Your advice made us aware of key things to look for in the home.
Mark Bozzo and Loretta Munoz, Richmond Hill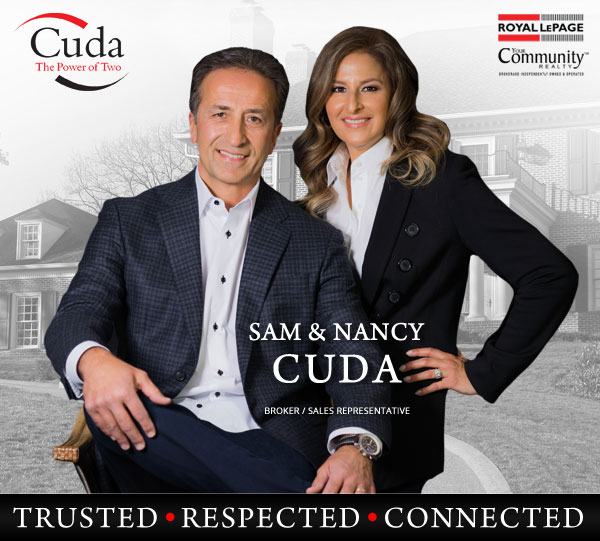 Thinking of buying or selling a property, or have a question regarding the real estate market? Fill out the form below and we'll get back to you promptly.