Sam and Nancy Cuda
"Quality is never an accident; it is always the result of high intention, sincere effort, intelligent direction and skillful execution, it represents the wise choice of many alternatives" Willa A. Foster
"I always had an interest in real estate," remembers Sam Cuda, one half of the Sam and Nancy Cuda real estate team. Sam earned his license back in 1995, only to be joined by his wife in 2006. The flexibility and challenges of the industry, along with the opportunity to connect with people, made it a natural career choice for both of them. In the time since, Sam and Nancy have earned a reputation for transparency, industry knowledge, and a personal touch. Their outstanding performance is consistently recognized by Royal LePage, most recently adding the Award of Excellence and President's Gold to their collection of multinational awards.
Today, Sam and Nancy serve clients across the greater Toronto region under the banner of Royal LePage. There, they have amassed a business largely driven by repeat and referral clientele who trust their expertise, amenable personalities, and track record of success. What's more, Sam relies on his thirty-one-year background in education when guiding clients through the intricacies of a transaction. Likewise, Nancy harnesses her experience in customer service, formerly at IBM, to attentively guide clients through the process with care and precision. Sam has also made it a point to develop his professional training as a Realtor, and has earned a host of designations and certifications along the way. "I equip myself with as much knowledge as possible to provide the best service for my clients," he says. This includes a Mortgage license, a Broker's license, and certifications as a Senior Real Estate Specialist, Certified Negotiation Specialist, and the distinguished FRI designation, an exclusive title that represents the highest standard in the industry for commitment to education, experience, and conduct. "As a teacher and counsellor for many years, I learned how important it is to be a great listener to best determine the wants and needs of who you're working with," he explains. "That skillset really transfers naturally to real estate. We personalize our service and we're there for our clients from start to finish. We're not about chasing transactions; we focus on relationships. As much as technology has made information more accessible than ever before, we recognize it's still an emotional transaction for many clients."
When embarking upon the listing process, Sam and Nancy cover every base. They have a wide network of professionals, including real estate lawyers, home inspectors, stagers, and a full marketing team to help sellers prep homes for market. Then, professional photography showcases homes in their most immersive light, before dissemination across the leading online listing platforms and social media outlets, as well as newsletters and postcards. Additionally, they've cultivated lasting relationships with fellow agents in the region, which facilitates the process of reaching the closing table. "We speak fluent real estate," Sam says. "It's all about hard work and good service. We serve a very diverse community and love the opportunity to help so many people navigate this process to achieve their real estate goals. In this business, we wear multiple hats—real estate expert, friend, coach. It's our job to be there for our clients and make sure every detail is accounted for."
As for the future, Sam and Nancy plan to keep business going steady as they continue to build relationships with aspiring buyers and sellers. In their free hours, the duo most enjoys time spent with family and friends, traveling, sporting events, and taking their daily walk together each morning.
Now, with more than two decades of experience, Sam and Nancy Cuda consider what they enjoy most about their second act career. "We like the autonomy of running our business," Sam reflects. "You get what you put in, and that keeps us accountable. We like the opportunity to meet new people and build relationships. There's also the excitement of every day being different, with new challenges. There's always something new to learn."
Always Earning the Right to be our Client's FIRST Choice
To learn more about Sam & Nancy Cuda email SamCuda09@gmail.com,
visit www.cudarealestate.com, or call +1 416 818 1670.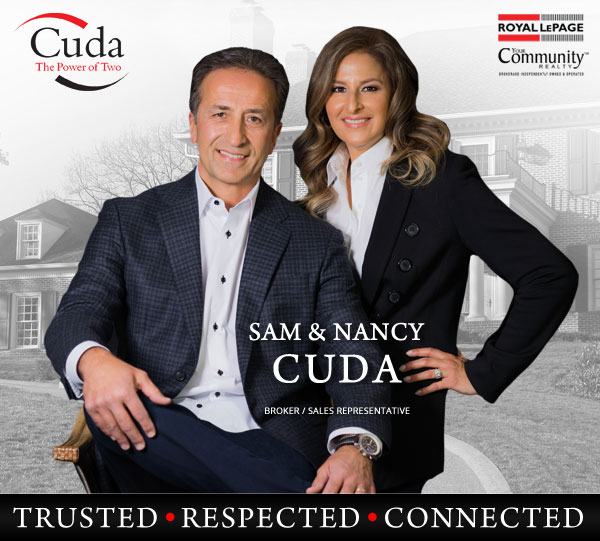 Thinking of buying or selling a property, or have a question regarding the real estate market? Fill out the form below and we'll get back to you promptly.